Chocolate depositors are special kinds of equipment that can be used for pouring and forming chocolates. Also, they can be used to discharge chocolate fillings and shells, make chips, tablets, pralines, chocolate chunks, and drops, as well as decorate the chocolate mold with various designs and patterns. When buying a chocolate depositor machine, it is important to know what you are getting and be equipped with information about what exactly to look for. Keep reading to learn more about chocolate depositors:
What to Expect from a Chocolate Depositor?
The best chocolate depositors on the market come with advanced features. When buying one of these machines, here's what you can expect from your purchase:
Depositing accuracy. The depositor's accuracy and precision will improve the speed and time of cholate deposition. Most depositors come with a single-piston depositing system that ensures accurate deposition of smaller volumes of chocolate.
Depositing flexibility. Chocolate depositors have mass channels in nozzle plate arrangements for various applications to ensure maximum viscosity. They can cover a range of products including smooth chocolate masses and fluid fillings of liquor.
Automation. The machine's fully automatic system with a PLC touch panel allows for convenient and easy control of the machine's parameters.
Compact and modular design. The compact design of a chocolate depositor lets users integrate with other chocolate machines and save space in the facility. Also, it comes with separate control in a single-drive technology that allows independent integration in various kinds of systems.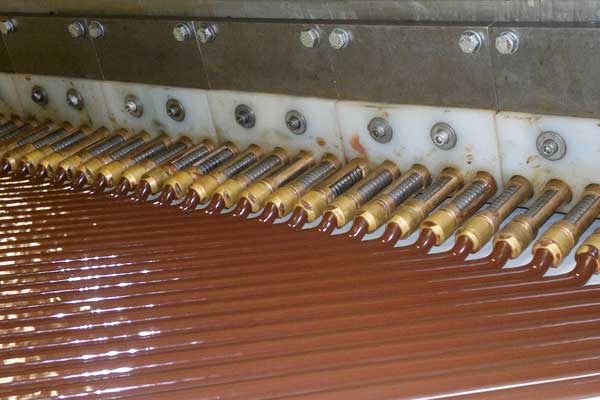 Quality compliance. High-quality machines meet compliance requirements that guarantee their safety for use, reliability, and durability.
Construction material. Chocolate depositors are often made in stainless steel. This material is durable and hygienic, therefore, ensuring very low to zero contamination levels.
Depositor Classifications
Chocolate depositors are available in the following classifications:
CNC. This range of depositors is designed to produce intricate chocolate designs with or without biscuits or fillings. It is ideal for making different chocolate decorations.
One-shot. This machine ensures a synchronized discharge of shell and filling mass into various molds. Some of this type of machine can have a 2D or 3D piping function.
You can use this depositor to set the mold bottom of the chocolate nozzle plate or fill the mold using the pedal or push-button technique. This ideal for startup confectionaries, bakeries, or cake shops.
This machine is portable and can be easily mounted on a table. It comes with a special design to eliminate the burden of filling various cavity chocolate molds by hand.